Jewish timeline
General timeline
EARLY HISTORY
5000

 Sahara, Mediterranean, and indigenous peoples merge into the Amazigh (Berber) tribes.




800 Phoenicians from Eastern Mediterranean establish Tinjis (Tangiers).




According to legend, Jews arrive from Land of Israel, perhaps searching for gold.



300

 Roman influence begins although they meet resistance from the people they term Berbers (Barbarians).


25

 Romans appoint a Romanized Berber, Juba II, king of North Africa.




Juba marries the daughter of Mark Antony and Cleopatra.




Roman influence increases with development of roads, science, vineyards, and the olive oil industry.
100

 First evidence of Jewish presence suggests sizeable Jewish Berber community.



200

 Roman influence declines due to Berber rebellions.


429

 Germanic tribes Vandals and Visigoths gain control on coasts.


533

 Byzantines eject last of the Vandals.




Morocco remains largely controlled by local Berber tribes.



581

 Jews flee to Morocco due to persecution in Spain.




Many Berber tribes convert to Judaism.




Jewish communities exist throughout the country.
MOROCCO BECOMES MUSLIM
632

 Muhammad, founder of Islam, dies.


662

 Ummayad Arabs invade and introduce Islam and Arabic. They intermarry with locals. Berbers eventually defeat Ummayads but continue to embrace Islam.
THE IDRISID DYNASTY
788

 The Idrisids become Morocco's first great dynasty.


792

 Idriss II establishes Fes as the first imperial capital.




Idrisid dynasty spreads into Europe, especially Spain.




A golden age for Jewish economic, cultural, and religious achievement.




Idriss II invites Jews to live in Fes.




Strong ties with Spain. Many Moroccan Jews, including leading thinkers, leave for Cordoba in Spain.




Two-way traffic; Spanish Jews also move to Morocco.
THE ALMORAVID DYNASTY
1062

 Berber Almoravid dynasty establishes royal capital in Marrakech.


1069

 Almoravids conquer and rebuild Fes.




Almoravids also control much of North Africa and the Andalusian region of Spain.




Jews continue to enjoy economic opportunities and connections with sultans.




Strong Jewish communities in Fes, Marrakech, and Meknes.



1121

 Berber Almohad spiritual leader, Ibn Tumart, launches a rebellion and condemns Almoravids for tolerance of wine and music.




Almohad stronghold in Atlas Mountains.
THE ALMOHAD DYNASTY
1147

 Almohads in control after defeating Almoravids.




They destroy and then re-design and rebuild Marrakech.




Rabat is made the royal capital.




Almohads build the Hassan Tower in Rabat, Koutoubia Mosque in Marrakech, and Giralda Tower in Seville (Spain).




Many Jews are forcibly converted to Islam, flee, are expelled, or killed.




Almohads destroy synagogues and plunder Jewish communities.




Leader of Fes Jews, Rabbi Judah HaKoken ibn Shushan, is buried alive for refusing to convert to Islam.


1168

 Maimonides, who moved to Morocco to escape persecution in Spain, flees Morocco for Holy Land and Egypt.


1189

 All Jews, including converts, are forced to wear distinctive signs.



1199

 Almohad power at peak. They control vast areas from Tripoli to Spain.


1212

 Almohads weakened after suffering major defeat by Christians in Spain.
THE MERENID DYNASTY
1269

 Merenid (Berber) dynasty ousts Almohads.




Moroccan control over Spain is now a thing of the past.




Jews begin to return to Morocco from Spain and elsewhere.




Fes again is the royal capital.




Bou Inania madrasa built in Fes.



1275

 Merenid sultan intervenes to stop pogroms.




The first Jewish quarter (mellah) is established near the royal palace in Fes.




Jewish community flourishes.




Jews are prominent in trade; Aaron Ben Matta is sultan's prime minister.



1492

 Christians complete reconquest of Spain and begin Inquisition.




Massive influx to Morocco of Spanish Jews and Marranos (Jews forced to convert to Christianity).




Those expelled from Spain (known as the megorashim) gradually become dominant in Morocco's Jewish community, especially in Fes.




Moroccan-Jews speak Haketia (Judeo-Spanish), a blend of Spanish, Hebrew, and Arabic.



1497

 Portuguese occupy Morocco's ports.
THE SAADIAN DYNASTY
1525

 Saadian Berbers battle Portuguese and establish a dynasty.




Marrakech becomes the royal capital.




Sugar and salt trade booms.




Saadian Berbers establish opulent tombs to bury their rulers and the El Badi palace.




Jews recognized as dhimmi, protected non-Muslims subject to special tax.




Jews are heavily involved in trade and are advisers to sultans.




Jewish quarter (mellah) established next to palace in Marrakech.




New mellahs formed in Rabat, Meknes, and elsewhere.




European Jews settling in Morocco.



1578

 At the Battle of the Three Kings, Saadians defeat Portuguese and oust them from Morocco.




Moroccan Jews celebrate Saadian victory with special Purim-like festival.
STILL RULING TODAY: THE ALAOUITE DYNASTY
1660

 The Alaouites from the Sahara, descendants of the Prophet Muhammad, begin a dynasty that remains in power today.


1672

 Moulay Ismail, a brutal, powerful Alaouite sultan, brings piracy under his control and builds an elaborate palace in Meknes.




Jewish economic and diplomatic influence continues.



1727

 After Moulay Ismail's death, there is a period of anarchy and uncertainty.


1789

 Yazid begins rebellion against his father, Sultan Mohammed Ben Abdallah.




Jews of Tetuan refuse important loan to Yazid.


1790

 Yazid comes to power and leads murder, plunder, and rape of Jewish community, especially in Tetuan.


1792

 New king stops violence against Jews.


1808

 Formerly open Jewish mellahs turned into closed ghettos.



1840

 Increasing influence of European powers in Morocco.



1862

 Alliance Israelite Universelle introduces secular French education to Jews.




Jewish population: 200,000.




Jewish community is dominated by wealthy families and more impoverished masses.




Plagues ravage increasingly overcrowded Jewish quarters.
UNDER THE COLONIAL POWERS
1912

 France establishes protectorate over much of Morocco.




Pogrom in Fes kills over 100.




Spain rules north of the country; Tangiers is international zone.




Rabat becomes the capital of French Morocco.




Casablanca develops into major North African city.




Modernization of country sees growth of educated Jewish middle class.


1930s

 Jewish position in Morocco vulnerable with rise of European fascism and Arab revolt in Palestine.



1940

 French Morocco under Vichy (Nazi collaborators) rule during World War Two.




Anti-Semitic laws passed.




Foreign Jews placed in labor camps.




King Mohammed V credited with refusing to hand Moroccan Jews over to Nazis.



1942

 Anglo-American invasion (Operation Torch) defeats Vichy forces.




Moroccans attack Jews throughout the country.



1943

 De Gaulle and Free French take control over French Morocco.



1948

 Jewish population: 271,000.




Moroccans protesting new State of Israel kill 43 Jews.




Mass immigration to Israel begins.


1950s

 Moroccan nationalist unrest threatens Jews.
INDEPENDENCE AND EMIGRATION
1956

 Moroccan independence. Muhammad V returns as king.

Jews forbidden from emigrating.


1959

 Zionist activity banned in country.




Nonetheless, clandestine emigration to Israel, France, and Canada increases.



1962

 King Hassan II takes power and establishes Morocco as constitutional monarchy.




The Years of Lead: Hassan dissolves parliament, and squashes dissent.



1970

 Jewish population has dropped to 42,000.

1975

 The Green March: Morocco asserts control over Western Sahara leading to war with locals.


1991

 Ceasefire in Western Sahara but no resolution of issue.


1993

 Hassan II Mosque, the largest in Africa, built in Casablanca.


1999

 Mohammad VI succeeds to throne and promises reform.


2011

 Arab Spring leads to protests but does not shake regime.
MOROCCO OF TODAY
Population of Morocco: 36 million.




Jewish population: 2,500.




King and government support Jewish community, rebuild synagogues, and welcome visiting Jews, including from Israel.
J2
STUFF.
We have everything you need to know before you go. Check out our Instagram my_j2adventures for cool updates and interesting tidbits.
The J2 App
available on the App Store & on Google Play.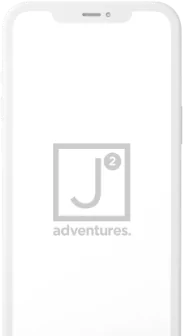 START PLANNING
LET'S EXPLORE.
Whether you have a journey in mind, want to join a featured trip, or simply want to explore, drop us a note. We work really hard to be a loved travel company that delivers amazing and memorable experiences. So please do not be surprised when we say "yes" to every reasonable request you make!
Just like you we're concerned for the future. And like you,
J2 stands for equality, tolerance, pluralism, and true democracy.