Home » Join »
Program is tentative and subject to change. Connect with our Customer Care Team by calling: (888) 230-6008 Mon.-Thur. from 8:00 a.m. to 12:00 p.m. Eastern Time (ET).
YOUR
journey
J² crafts journeys of inspiration, education, and Jewish connections to Israel and worldwide. We are guided by a simple but powerful concept: No two trips are the same; each experience should be personal, meaningful, and backed by superb service. Travel is not just about the places you visit, but the connections you make along the way.
Archaeology
Art & Culture
Current Affairs
Local Specialists
Nature Walks
Home Hospitality
Heritage
Food & Wine
Street Food
Program
Itinerary
DAY 1
WELCOME TO ISRAEL
Tue. Feb 13, 2024
Meet your tour educator who will accompany you on this journey of education and inspiration at the hotel lobby.
Welcome dinner at a local restaurant.
Overnight: Tel Aviv
Meals: Dinner
DAY 2
OLD NEW LAND, OLD NEW CITY
Wed. Feb 14, 2024
J² Salon Talk: A Small Country With Big Questions. Geographically, Israel is one of the smallest countries in the world. However, few landscapes have played such a formative role in human civilization. What are the foundational elements that make up the story of Israel, and what key questions does Israel contends with as it continues to evolve in a shifting regional and international reality?
Gaze out over the Mediterranean Sea and learn why Jaffa, mentioned in the biblical story of Jonah and the Whale, is so historically important.
Meet peace activist and educator Ihab Balha, and his wife Ora at The Orchard of Abraham's Children in Jaffa. Learn how they are leading an inspirational life of reconciliation, coexistence, and instilling a culture of peace.
Experience the dynamism of Jewish life at the newly opened ANU - Museum of the Jewish People, dedicated to telling their story and representing their diversity, highlighting the creative works and cultural riches of a variety of communities in different periods of history until the present day.
Overnight: Tel Aviv
Meals: Breakfast
DAY 3
AGENTS OF CHANGE
Thu. Feb 15, 2024
Check out of the hotel.
Dialogue with Anna Kislanski CEO of the Israel Movement for Reform and Progressive Judaism (IMPJ).
Join the volunteer organization Leket Israel and pick fruits and vegetables for those in need.
Tour Tel Maresha in the Beit Guvrin National Park and explore the ancient cave complex of the Hellenistic city.
Wine tasting at Flam Winery in the Judean Hills.
Stop at HUC to recite the traditional "shehechiyanu" blessing of thanksgiving and see some of the unique artifacts at the Skirball Museum of Biblical Archaeology.
Check into the hotel.
Overnight: Jerusalem
Meals: Breakfast
DAY 4
A CITY OF GOLD
Fri. Feb 16, 2024
Meet with a representative of Emek Shaveh, an organization consisting of archaeologists and community activists, focusing on the role of archaeology in Israeli society and the Israeli-Palestinian conflict.
Take a walking tour through Jerusalem's Old City and the Jewish Quarter and experience the center of Jewish life, history, and holiness. Among the highlights will be:

A climb to the rooftops to see and discuss the ties and tensions between the different faith groups and communities of the Old City. From this one spot, we'll look out over the Church of the Holy Sepulchre, venerated by Christian groups as the burial place of Jesus; the Dome of the Rock, which is sacred to Islam; and the Jewish Quarter's famous Hurva Synagogue.
The Cardo, the main street of Roman-controlled Jerusalem and its spectacular Byzantine-era columns.
King Hezekiah's "Broad Wall," a massive wall built to protect Jerusalem from invasion 2,700 years ago.

Discover the Jerusalem Archaeological Park, a large-scale excavation that has uncovered vital parts of ancient Jerusalem.
Visit the Kotel (Western Wall), widely considered Judaism's holiest site.
Attend Friday night services at Kehillat Kol Haneshama, a leading Reform congregation.
Home hospitality or communal Shabbat dinner.
Overnight: Jerusalem
Meals: Breakfast & Dinner
DAY 5
SHABBAT IN JERUSAELM
Sat. Feb 17, 2024
Optional Morning services.
Explore the pastoral neighborhoods of Yemin Moshe and Mishkenot Sha'ananim, where the great banker and philanthropist Sir Moses Montefiore developed the famous windmill and the artists' colony.
Havdalah overlooking the Old City.
Overnight: Jerusaelm
Meals: Breakfast
DAY 6
MEMORY AND MORE
Sun. Feb 18, 2024
Depart the hotel.
First timers :
Visit Yad Vashem. Your tour will include:

The Avenue of the Righteous.
The Historical Museum.
The Children's Memorial.

Returnees :
"No Child's Play," which presents the toys, games, diaries, and personal stories of children trapped in the Shoah.
The Valley of the Communities.
Experience the sights, smells, and tastes of Jerusalem while walking through the Machane Yehuda open-air market.
Visit the Rockefeller Museum dedicated to Archeology located in a Jerusalem Landmark.
Explore the City of David, the core of ancient Jerusalem.
Overnight: Jerusalem
Meals: Breakfast & Lunch
DAY 7
SPIRITUALITY AND MORE
Mon. Feb 19, 2024
Check out of the hotel.
Join Professor Reuven Hazan of the Political Science Department at Hebrew University for an introduction into Israel's turbulent political scene.
Visit the Beit She'an National Park, one of Israel's largest archaeological sites, with its Biblical period archaeological mound and excavated Roman-Byzantine city.
Visit Kibbutz Gesher on the Jordanian border and descend to the Jordan River bank.
Visit Capernaum on the shores of the Sea of Galilee.
Check into the hotel and have dinner.
Meet with Rabbi Or Zohar ad discuss spirituality in this day and age.
Overnight: Sea of Galilee
Meals: Breakfast & Dinner
DAY 8
EXPLORE THE NORTH
Tue. Feb 20, 2024
Touring on the Golan Heights is important to understand its strategic importance, and the current challenges in this area due to the increasing presence of Iran and Russia.
Take a nature walk along the Banias Stream, the second largest source of the Jordan River.
In Tsfat:

We'll meet David Friedman, an artist inspired by Kabbalah or local potter Daniel Flatauer in his studio.
Visit the Ari Synagogue.
See the Ari and Caro Synagogues, built originally in the 16th century.
Walk through the Artists' Colony.

Return to the hotel for Dinner.
Overnight: Sea of Galilee
Meals: Breakfast & Dinner
DAY 9
HOME AGAIN
Wed. Feb 21, 2024
Check out of the hotel.
Visit Sindyanna of Galilee - a non-profit organization that is creating economic opportunities for Arab women, one of Israel's most underemployed sectors - and sample some of their award-winning olive oil.
Visit the Zippori National Park, known for its extraordinary ancient mosaics and its central role in Jewish life after the destruction of the Temple.
Visit a village on Mt. Carmel for a glimpse into the lives of Israel's Druze community and explore their complex but close relationship with the State of Israel.
Enjoy the tastes of the Druze kitchen with a home hospitality lunch.
Group transfer to Ben Gurion airport.
Overnight: FLIGHT
Meals: Breakfast & Lunch
RATES
& LODGING
Cost p/p in double room
$5,490
Cost p/p in single room
$6,890

What to
expect
8 nights' accommodations.
9 days of touring with a tour educator (guide), 8 days of touring in a luxury, air-conditioned bus.
Daily breakfast, 2 lunches & 4 dinners.
The J² adventures App available on the App Store & on Google Play (active 7 days before your departure and throughout your trip).
Water on the bus.
Porterage at the hotels.
All site entrance fees & program fees as per your final program.
Credit card fees.
Arrival transfers & assistance from the airport.
Flights to & from Israel.
COVID related expenses, including tests.
Evening transportation when dinner is not included.
Amendments to the program: In the event that any sites, programs or meals etc. are added to the program, an additional fee may be required.
Personal extras: Items of personal nature such as laundry, wines, mineral water, beverages, coffee, tea, food other than the table d'hotel menu, passport and visa fees, insurance, and foreign port taxes, unless otherwise specified.
US and foreign airport taxes, Q fuel surcharge and border taxes when applicable.
Value Added Tax is currently not applicable to tourists visiting Israel. Should the law change, you will be notified accordingly, and VAT will be added to your final invoice.
Gratuities: Recommend guidelines for tipping are provided in the terms section.
Please review our terms & conditions (T&C's) or request that we send you our full T&C's. Until you do that, here is the small print, and other stuff you may want to know:
Validity | All prices quoted are based on exchange rates as of the proposal date and are subject to change without notice. Rates are per person and are based on shared twin room occupancy.
How to Make a Reservation | The quickest way to make a reservation is to register online or contact us by email. We accept VISA, MasterCard, and American Express credit cards. A non-refundable deposit is required in order to complete the registration process.
For any assistance with this registration process or other trip-related queries, please email Customer Care: [email protected].
Payments | The balance of your payment is due 90 days before your trip begins, or as specified in your invoice. You will receive an email reminder 2 weeks before this date. Various payment options are available as follows:
Credit card | We accept Visa, Mastercard and American Express. Please check with your credit card provider regarding international processing fees. We are unable to process payments of over $1,000 over the phone. Please submit payment online via a credit card or by wiring funds via your bank.
Domestic bank wire transfer | Payment should be wired in the same currency that is listed on your invoice. Please add the name of your group or invoice number as a reference and forward a copy of the transfer receipt by email. The bank transfer should clearly state the beneficiary's name on the wire transfer.
J² Adventures reserves the right to automatically cancel your reservation on that date and it may be subject to reconfirmation should the final payment not be received.
Cancelation Policy | All cancelations need to be made in writing. The cancelation fee depends on the date when we receive written notification of your request to cancel your booking. Please note that the deposit is non-refundable.
Cancelation fees | Cancelations made 90 or more days prior to departure incur the loss of the deposit. Cancelations made 89 to 46 days prior to departure incur the loss of 50% of the full trip cost. Cancelations made 45 days or less prior to the departure incur the loss of 100% of the full trip cost.
Cancelation fees may also include: Hotel or supplier cancelation fees. J² Adventures reserves the right to adjust its terms of payment, including cancelation policies and initial deposits.
Protect your investment for $495 p/p: Should you cancel your trip up to 5 days before your departure for any reason, our POM program offers you a trip refund. Call 888-230-6008 or e-mail: [email protected].
DISCOVER NEW WORLDS.
JEWISH
JOURNEYS.
A family vacation to Israel. An adventure of a lifetime traveling with friends to Morocco. A  trip to Poland or Portugal with your community. What do these trips have in common? No matter where you go, you will come back with a fresh perspective and appreciation of the place you visited as well as a heightened awareness of your identity as part of the global Jewish community. 
J2
STUFF.
We have everything you need to know before you go. Check out our Instagram my_j2adventures for cool updates and interesting tidbits.
The J2 App
available on the App Store & on Google Play.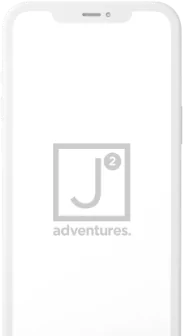 Just like you we're concerned for the future. And like you,
J2 stands for equality, tolerance, pluralism, and true democracy.