Home » Join »
Program is tentative and subject to change. Connect with our Customer Care Team by calling: (888) 230-6008 Mon.-Thur. from 8:00 a.m. to 12:00 p.m. Eastern Time (ET).
YOUR
journey
J² crafts journeys of inspiration, education, and Jewish connections to Israel and worldwide. We are guided by a simple but powerful concept: No two trips are the same; each experience should be personal, meaningful, and backed by superb service. Travel is not just about the places you visit, but the connections you make along the way.
Due to the changing realities on the ground, this itinerary is tentative and is likely to change. Also, due to the possibility of hearing sirens, it is crucial that each participant is ready and able to take shelter very quickly.
Please note that registration is currently closed and the trip is fully subscribed. We encourage you to register yourself to the waiting list by clicking here. Should a spot open up you will be contacted by a customer care representative in order to complete your registration
Archaeology
Art & Culture
Current Affairs
Expert Scholar
Food & Wine
Heritage
Home Hospitality
Innovation
Local Specialists
Program
Itinerary
DAY 2
Sun. Jan 28, 2024
Arrive at Ben-Gurion International Airport.
Transfer on own to Tel Aviv.
Check into your hotel and meet your J² Expert Educator followed by welcome dinner & briefing with IMPJ and IRAC leadership.
Overnight: Tel Aviv
Meals: Dinner
DAY 3
Mon. Jan 29, 2024
Check out of the hotel.
Walking tour of Tel Aviv's recent protest art installations, including a stop at Kaplan Street to meet with local activists.
Meet with Gisha to learn about the rights of Gazans and their reality during the ongoing operation.
Hear from Rabbi Benjamin Minich to gain insight into the effect of the ongoing conflict on the local Russian and Ukrainian communities.
Drive north on the Trans-Israel Highway and see the Security Barrier which runs along the seam zone between Israel and the Palestinian territories.
Dinner with MARAM colleagues in Haifa.
Check into your hotel.
Overnight: Haifa
Meals: Breakfast, Dinner
DAY 4
Tue. Jan 30, 2024
Visit & volunteer with Or Hadash and learn about their community work during the ongoing war.
Meet with leadership of the "Omdim Beyahad" or Standing Together movement.
How to Pray with a Broken Heart: Musical session with Rabbi Michal Kantor and Rabbi Dahlia Shaham at Hamam El Pasha, a home for culture and music in an old restored Hamam.
Return to the hotel for dinner.
Processing session with Rabbi Person.
Army Briefing by an expert
Overnight: Haifa
Meals: Breakfast, Dinner
DAY 5
Wed. Jan 31, 2024
Check out of the hotel.
Visit Kibbutz Mishmar HaEmek, the temporary home of Kibbutz Nahal Oz and hear testimonies from the community, and show support for families waiting for the return of their loved ones currently held hostange in Gaza. Meet with reform rabbis from the Otef to hear about the state of their communities.
Stop in Modiin to volunteer at the Modi'in Hamal for disabled children with the Yozma community, led by Rabbi Nir Barkin.
Enjoy your first sight of Jerusalem while reciting the traditional "shehechiyanu" blessing of thanksgiving.
Check into the hotel & have dinner.
Study session with Dr. Rabbi Michael Marmur.
Overnight: Jerusalem
Meals: Breakfast, Dinner
DAY 6
Thu. Feb 1, 2024
Meet with MK Rabbi Gilad Kariv.
Tour the newly-opened National Library.
Tour and volunteer at the Jerusalem Hamal along with American HUC students.
Dinner with HUC American rabbinical students who chose to stay in Israel.
Take part in a session led by your J² Expert Educator: "Meaning and Mission: Organizing Your Next Trip."
Overnight: Jerusalem
Meals: Breakfast, Dinner
DAY 7
Fri. Feb 2, 2024
Words, poetry, and documentation: Morning dialogue with Eliaz Cohen, a poet, editor, and peace activist.
Religious Tension During These Times: Special Mt. Zion tour with Hana Bendcowsky, Director of the Jerusalem Center for Jewish-Christian Relations.
Return to the hotel to prepare for Shabbat.
Kabbalat Shabbat services at a local synagogue followed by a home hospitality Shabbat dinner.
Overnight: Jerusalem
Meals: Breakfast, Shabbat Dinner
DAY 8
Sat. Feb 3, 2024
Services at a local synagogue.
Meet with Alden Solovy and hear of his ongoing prayer writing project in Yemin Moshe.
Study session with Rabbi Dalia Marx about Pidyon Shvuyim and its impacts on real life.
Mark the end of Shabbat with a communal Havdalah ceremony overlooking the Old City.
Closing session & farewell dinner.
Group transfer to Ben-Gurion International Airport.
Noga Top
Overnight: Flight
Meals: Breakfast, Dinner
RATES
& LODGING
Cost p/p in double room
$1,995
Cost p/p in single room
$2,255

What to
expect
6 nights' accommodations. Late check out on the day of departure is included.
7 days of touring with a tour educator (guide), 7 days of touring in a luxury, air-conditioned bus.
Daily breakfast & 7 dinners.
The J² adventures App available on the App Store & on Google Play (active 7 days before your departure and throughout your trip).
Water on the bus.
Porterage at the airport & hotels.
All site entrance fees & program fees as per your final program.
Credit card fees.
Flights to & from Israel.
Arrival transfer & assistance at the airport.
COVID related expenses, including tests.
Evening transportation when dinner is not included.
Amendments to the program: In the event that any sites, programs or meals etc. are added to the program, an additional fee may be required.
Personal extras: Items of personal nature such as laundry, wines, mineral water, beverages, coffee, tea, food other than the table d'hotel menu, passport and visa fees, insurance, and foreign port taxes, unless otherwise specified.
Gratuities: Recommend guidelines for tipping are provided in the terms section.
US and foreign airport taxes, Q fuel surcharge and border taxes when applicable.
Value Added Tax is currently not applicable to tourists visiting Israel. Should the law change, you will be notified accordingly, and VAT will be added to your final invoice.
Please review our terms & conditions (T&C's) or request that we send you our full T&C's. Until you do that, here is the small print, and other stuff you may want to know:
Validity | All prices quoted are based on exchange rates as of the proposal date and are subject to change without notice. Rates are per person and are based on shared twin room occupancy.
How to Make a Reservation | The quickest way to make a reservation is to register online or contact us by email. We accept VISA, MasterCard, and American Express credit cards. A non-refundable deposit in the amount of $500 is required in order to complete the registration process.
For any assistance with this registration process or other trip-related queries, please email Customer Care: [email protected].
Payments | The balance of your payment is due 90 days before your trip begins, or as specified in your invoice. You will receive an email reminder 2 weeks before this date. Various payment options are available as follows:
Credit card | We accept Visa, Mastercard and American Express. Please check with your credit card provider regarding international processing fees. We are unable to process payments of over $1,000 over the phone. Please submit payment online via a credit card or by wiring funds via your bank.
Domestic bank wire transfer | Payment should be wired in the same currency that is listed on your invoice. Please add the name of your group or invoice number as a reference and forward a copy of the transfer receipt by email. The bank transfer should clearly state the beneficiary's name on the wire transfer.
Please use the following information: Investors Bank 101 JFK Parkway, Short Hills, NJ 07078 ABA Routing Number: 221272031
Beneficiary Instructions: For the benefit of J² Adventures. Account number: 1001858331
J² Adventures reserves the right to automatically cancel your reservation on that date and it may be subject to reconfirmation should the final payment not be received.
Cancelation Policy | All cancelations need to be made in writing. The cancelation fee depends on the date when we receive written notification of your request to cancel your booking. Please note that the deposit is non-refundable.
Cancelation fees | Cancelations made 90 or more days prior to departure incur the loss of the deposit. Cancelations made 89 to 46 days prior to departure incur the loss of 50% of the full trip cost. Cancelations made 45 days or less prior to the departure incur the loss of 100% of the full trip cost.
Cancelation fees may also include: Hotel or supplier cancelation fees. J² Adventures reserves the right to adjust its terms of payment, including cancelation policies and initial deposits. Please refer to the small print tab on your trip's webpage or in your proposal for your cancelation policy and fees.
Protect your investment for $495 p/p: Should you cancel your trip up to 5 days before your departure for any reason, our POM program offers you a trip refund. Call 888-230-6008 or e-mail: [email protected].
DISCOVER NEW WORLDS.
JEWISH
JOURNEYS.
A family vacation to Israel. An adventure of a lifetime traveling with friends to Morocco. A  trip to Poland or Portugal with your community. What do these trips have in common? No matter where you go, you will come back with a fresh perspective and appreciation of the place you visited as well as a heightened awareness of your identity as part of the global Jewish community. 
J2
STUFF.
We have everything you need to know before you go. Check out our Instagram my_j2adventures for cool updates and interesting tidbits.
The J2 App
available on the App Store & on Google Play.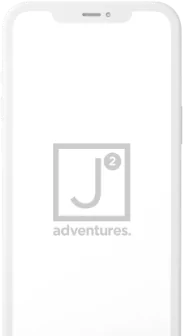 Just like you we're concerned for the future. And like you,
J2 stands for equality, tolerance, pluralism, and true democracy.