Home » Join »
Program is tentative and subject to change. Connect with our Customer Care Team by calling: (888) 230-6008 Mon.-Thur. from 8:00 a.m. to 12:00 p.m. Eastern Time (ET).
YOUR
journey
J² crafts journeys of inspiration, education, and Jewish connections to Israel and worldwide. We are guided by a simple but powerful concept: No two trips are the same; each experience should be personal, meaningful, and backed by superb service. Travel is not just about the places you visit, but the connections you make along the way.
Art & Culture
Current Affairs
Cooking Workshop
Heritage
Expert Scholar
Local Specialists
Social Justice
Active
Street Food
Food & Wine
Program
Itinerary
DAY 1
DEPARTURE
Sun. Feb 25, 2024
DAY 2
WELCOME TO ISRAEL
Mon. Feb 26, 2024
Arrive at Ben Gurion International Airport.
Meet your tour educator who will accompany you on this journey of education and inspiration.
Welcome dinner at a local restaurant celebrating world famous Israeli cuisine.
Overnight: Tel Aviv
Meals: Dinner
DAY 3
TEL AVIV-JAFFA: OLD & NEW
Tue. Feb 27, 2024
J² Salon Talk: The "Z" Word - The Many Faces of Zionism. Zionism aspired to be the national liberation movement of the Jewish people, and in the 20th century achieved and even surpassed many of its initial goals. But given Israel's current challenges and realities, how relevant is Zionism today?
Visit the Peres Peace Center, created by the late Shimon Peres, former Prime Minister and President of Israel.
Hatikvah Neighborhood:

Tasting tour at Hatikvah's open-air market with food (and people) from around the world. In the last 80 years, waves of immigration have broken on the metaphorical shore of Hatikvah: from Yemen, Iraq, Libya, Persia, Central-Asia, and lately, working immigrants and refugees from Sudan, West Africa, and Southeast Asia, creating one of Tel Aviv's most eclectic food scenes.

Visit the Rabin Center Museum and learn about former Prime Minister Yitzhak Rabin, who was assassinated in 1995. Meet Dalia Rabin, daughter of the late Rabin.
Enjoy a night out in Tel Aviv.
Overnight: Tel Aviv
Meals: Breakfast & Lunch
DAY 4
LIVING ON THE EDGE: IN THE SHADOW OF GAZA
Wed. Feb 28, 2024
Dialogue with Dan Feferman, author, speaker, and researcher, and Executive Director of Communications and Global Affairs at Sharaka, an NGO that works to build people-to-people peace between Israel and the Arab world.
Join the volunteer organization Leket Israel and pick fruits and vegetables for those in need.
Visit Sderot, located on Israel's border with the Gaza Strip, and meet with a local resident.
Visit an army base for a dialogue with officers and soldiers (pending confirmation).
Return to Tel Aviv.
Spend an hour learning Krav Maga with "Eitan - Everybody Can" from certified instructors with autism. Meet the founder of the program, a veteran of an elite unit in the IDF, who was wounded in service, and created this program as part of his rehabilitation process. Based on the premise that physical fitness allows participants to set and pursue personal achievements and nurture their independence and self-esteem, these skills support participants of the program as they integrate into society.
Overnight: Tel Aviv
Meals: Breakfast
DAY 5
IN THE FOOTSTEPS OF INDEPENDENCE
Thu. Feb 29, 2024
Check out of the hotel.
Optional visit to ANU, Museum of the Jewish People, where you will experience the ongoing and extraordinary story of the Jewish people.
The artisanal beer revolution has hit Israel: Beer tasting at a local boutique brewery and lunch.
Visit the Sha'ar Hagai Heritage Museum which is dedicated to the courageous men and women who prevented the roads to besieged Jerusalem from being blocked in the days leading up to, and even following, Israel's independence in 1948.
Stop at the new Articulacy significant suspension bridge over the Hinnom Valley the longest bridge in Israel.
Check into the hotel.
Basketball action with a local basketball team.
Overnight: Jerusalem
Meals: Breakfast & Lunch
DAY 6
CONNECTING WITH THE LAND
Fri. Mar 1, 2024
Meet with Marik Stern, Co-Founder of The Jerusalem Movement Coalition, building bridges between the different communities to bring about a more tolerant existence.
Visit Herodian, where King Herod built an impressive palace-fortress and where he is believed to have been buried in 4 BCE.
Meet with Ali Abu Awwad and Rabbi Hanan Schlesinger/Rabbi Shaul Judelman from Shorashim (Roots), a program bringing West Bank Palestinians and their Jewish neighbors together despite their fears and suspicions.
Return to the hotel to freshen up for Shabbat.
Kabbalat Shabbat service at Kehillat Harel in Jerusalem.
Home Hospitality/communal Shabbat dinner with local congregants.
OR
Festive Shabbat dinner at the hotel.
Overnight: Jerusalem
Meals: Breakfast & Dinner
DAY 7
SHABBAT IN JERUSALEM
Sat. Mar 2, 2024
Optional synagogue hop led by Rabbi Barras.
Tour the Old City's Christian Quarter and explore inter-religious relations with Hana Bendcowsky, Director of the Jerusalem Center for Jewish-Christian Relations.
The Colors of Armenia, by Way of Jerusalem: Despite Jerusalem's dizzying diversity, one common factor is that nearly everyone seems to love Armenian ceramics. In the Armenian Quarter, the smallest and oldest of the Old City quarters, we'll learn about this community, see a ceramic artist in action, and find out why the exuberant colors of Armenian art have become a feature of Jerusalem.
Havdalah overlooking the Old City.
Overnight: Jerusalem
Meals: Breakfast
DAY 8
RELIGION AND JERUSALEM
Sun. Mar 3, 2024
Meet with a leader from IRAC (Religious Action Center) to learn about social justice initiatives in Israel.
Spend time with creator of the television hit "Shtisel" and discuss the portrayal of Orthodoxy in the media. "Shtisel" took Israel by storm, premiering in 2013 by offering an innovative and true-to-life portrayal of everyday Haredi life. Later picked up by Netflix, viewers all over the world were captivated by this Haredi family and the everyday trials and tribulations that they endured.
A Taste of Tradition – A Culinary & Culture Tour of the Ultra-Orthodox World: There is no better – or more enjoyable – way to experience the essence of a culture than through its traditional food. With Encounters Outside the Box, a member of the ultra-Orthodox community will take you on a tasting tour, sharing the unique background of each dish between bites. We will explore the evolution of Haredi foods, learn how and when they are traditionally served, identify the chef's origin through the dish, and hear the stories behind the recipes. As you go through the afternoon, think about the conceptions and misconceptions you have about the Ultra-Orthodox community, their political influence, and the way in which their religious observance has shaped Israeli society.
Visit the New Tolerance Museum.
Overnight: Jerusalem
Meals: Breakfast & Lunch
DAY 9
DREAMERS & PIONEERS ON THE ROAD TO THE GALILEE
Mon. Mar 4, 2024
Check out of the hotel.
Tour the Knesset and meet with Knesset member, Gilad Kariv.
Visit Kibbutz Gesher, an important point of defense during the War of Independence on the Jordanian border and descend to the Jordan River bank, not always open to the public.
Drive via Tiberias, an ancient/modern city on the shores of Lake Kinneret (Sea of Galilee) and stop at the Rambam grave.
Check into the hotel and have dinner.
Overnight: Galilee
Meals: Breakfast & Dinner
DAY 10
ADVENTURE IN THE NORTH
Tue. Mar 5, 2024
Stop at Nimrod's Lookout, a memorial to Nimrod Segev, who was killed during the Second Lebanon War. Meet Nimrod's father, Hezi Segev.
Meet with a research expert from the Alma Research and Education Center at an overlook of the border.
Look into Southern Lebanon from Kibbutz Misgav Am, including a dialogue with a Kibbutz member.
Mavrhatey – Ethiopian Experience is owned and operated by Yonie Skiba, who moved to Israel from Ethiopia when she was eight. She now lives in Kibbutz Evron in the Western Galilee. Outside of her house on the Kibbutz, she built an Ethiopian hut where she will meet with you and tell you the story of Ethiopian Jews.
Return to the hotel and enjoy dinner.
Overnight: Galilee
Meals: Breakfast & Dinner
DAY 11
THE Z WORD
Wed. Mar 6, 2024
Check out of the hotel.
Visit Nahalal, Israel's first moshav, the village's secret weapons hideaway used during the 1948 War of Independence. Spend time at the famous cemetery.
Join Rabbi Gabby Dagan, leader of Or Chadash the Reform Synagogue, for a trip to his old stomping grounds at Kfar Haroeh, a symbol in Religious Zionist history, and hear about his journey.
Farewell dinner at a winery Enjoy local wine and share trip highlights.
Group transfer to Ben Gurion Airport and check into your flight.
Overnight: Flight
Meals: Breakfast & Dinner
DAY 12
UNTIL THE NEXT TIME
Thu. Mar 7, 2024
RATES
& LODGING
Cost p/p in double room
$5,990
Cost p/p in single room
$8,090
What to
expect
9 nights' accommodations.
10 days of touring with a tour educator (guide), in a luxury, air-conditioned bus.
Daily breakfast, 3 lunches & 5 dinners.
The J² adventures App available on the App Store & on Google Play (active 7 days before your departure and throughout your trip).
Water on the bus.
Porterage at the hotels.
All site entrance fees & program fees as per your final program.
Credit card fees.
Flights to & from Israel.
COVID related expenses, including tests.
Evening transportation when dinner is not included.
Amendments to the program: In the event that any sites, programs or meals etc. are added to the program, an additional fee may be required.
Personal extras: Items of personal nature such as laundry, wines, mineral water, beverages, coffee, tea, food other than the table d'hotel menu, passport and visa fees, insurance, and foreign port taxes, unless otherwise specified.
Gratuities: Recommend guidelines for tipping are provided in the terms section.
US and foreign airport taxes, Q fuel surcharge and border taxes when applicable.
Value Added Tax is currently not applicable to tourists visiting Israel. Should the law change, you will be notified accordingly, and VAT will be added to your final invoice.
Peace of Mind Travel Protection Program (POM).
Please review our terms & conditions (T&C's) or request that we send you our full T&C's. Until you do that, here is the small print, and other stuff you may want to know:
Validity | All prices quoted are based on exchange rates as of the proposal date and are subject to change without notice. Rates are per person and are based on shared twin room occupancy.
How to Make a Reservation | The quickest way to make a reservation is to register online or contact us by email. We accept VISA, MasterCard, and American Express credit cards. A non-refundable deposit is required in order to complete the registration process.
For any assistance with this registration process or other trip-related queries, please email Customer Care: [email protected].
Payments | The balance of your payment is due 90 days before your trip begins, or as specified in your invoice. You will receive an email reminder 2 weeks before this date. Various payment options are available as follows:
Credit card | We accept Visa, Mastercard and American Express. Please check with your credit card provider regarding international processing fees. We are unable to process payments of over $1,000 over the phone. Please submit payment online via a credit card or by wiring funds via your bank.
Domestic bank wire transfer | Payment should be wired in the same currency that is listed on your invoice. Please add the name of your group or invoice number as a reference and forward a copy of the transfer receipt by email. The bank transfer should clearly state the beneficiary's name on the wire transfer.
Please use the following information: Citizens Bank: 1 Citizens Drive, Riverside, RI 02915 Routing number: 021313103 (Domestic only) ACH: 036076150 SWIFT Code: CTZIUS33 (International only)
Beneficiary Instructions: For the benefit of J² Adventures. Account number: 1001858331
J² Adventures reserves the right to automatically cancel your reservation on that date and it may be subject to reconfirmation should the final payment not be received.
Cancelation Policy | All cancelations need to be made in writing. The cancelation fee depends on the date when we receive written notification of your request to cancel your booking. Please note that the deposit is non-refundable.
Cancelation fees | Cancelations made 90 or more days prior to departure incur the loss of the deposit. Cancelations made 89 to 46 days prior to departure incur the loss of 50% of the full trip cost. Cancelations made 45 days or less prior to the departure incur the loss of 100% of the full trip cost.
Cancelation fees may also include: Hotel or supplier cancelation fees. J² Adventures reserves the right to adjust its terms of payment, including cancelation policies and initial deposits.
Protect your investment for $495 p/p: Should you cancel your trip up to 5 days before your departure for any reason, our POM program offers you a trip refund. Call 888-230-6008 or e-mail: [email protected].
DISCOVER NEW WORLDS.
JEWISH
JOURNEYS.
A family vacation to Israel. An adventure of a lifetime traveling with friends to Morocco. A  trip to Poland or Portugal with your community. What do these trips have in common? No matter where you go, you will come back with a fresh perspective and appreciation of the place you visited as well as a heightened awareness of your identity as part of the global Jewish community. 
J2
STUFF.
We have everything you need to know before you go. Check out our Instagram my_j2adventures for cool updates and interesting tidbits.
The J2 App
available on the App Store & on Google Play.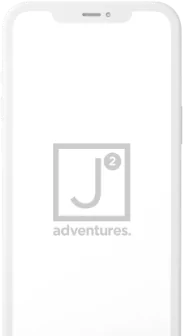 Just like you we're concerned for the future. And like you,
J2 stands for equality, tolerance, pluralism, and true democracy.